Convenience food products are conquering the world and existing capacities have to be expanded, for example in Brazil, where one of the most renowned German manufacturers of finished products made from chicken and turkey meat produces its goods.
In order to guarantee the production and processing of products at the highest level, the processing machines (cookers, roasters) must also be heated with precise temperature accuracy. Since temperatures >200°C are necessary here, only thermal oils can be used as a heating medium. For this reason, the capacity of the existing thermal oil system is being expanded and modernized, as time does not stand still in this technology either.
The extension also includes the creation of a new boiler house, in which a gas-fired heater with an output of 2,500 kW now additionally supports production.
In order to conserve resources and make a contribution to environmental protection, another 330 kW are decoupled from the flue gas in the form of hot water, which in turn is used for production. With this combination, the operator achieves a remarkable efficiency of >95 %, a proud figure. We – heat 11 – are delighted that we were able to inspire the company with our concept.
The new boiler house is designed in such a way that it can be extended on both sides at the front end, on the one hand to accommodate one or two additional heaters, and on the other hand that the distributor can also be extended with further transfer pumps. Currently, the mixing manifold is equipped with 3 heater pumps – 2 further heaters are located in an external boiler room – and 4 transfer pumps, as well as filter groups with bypasses in the return flows.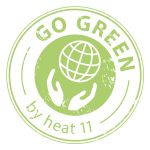 The DN400 mixing distributor with the filter groups, the circulating pumps with oil pans and leakage monitors is designed in such a way that all relevant fittings and pumps to be operated can be reached from the floor, platforms or ladders are not required. This user-friendly layout was received with open ears by our customer, who provided the necessary space in the new boiler house, as can be seen from the dimensions of approx. 7 x 6 meters. In addition, the unit weighs around 15 tons in operating condition.
For transport in seaworthy containers, the mixing distributor can be flanged out in 2 segments and can be loaded and stowed easily.